Tory Archbold, Founder of Powerful Steps and
Shivani Gopal, CEO of The Remarkable Woman
proudly present
As 2020 approaches with increasing speed, it's time to set the course for the New Year ahead. It's time to get clear around what it means to be the leader of your life—personally and professionally.
Transformational Leadership is about living from your authentic nature. It requires you to be honest, courageous and intentional. Doing so requires an empowered mindset and willingness to go deep.
Because that's not always easy, Tory Archbold and Shivani Gopal are here to support you on your way.
Both Tory and Shivani have built successful companies and continue to push the boundaries of what's possible in their daily life.
With their experiences combined they've been featured in Marie Claire, The Daily Telegraph, The Australian, Financial Review and appeared on Sky Business News, Channel 7, Channel 9 and The Today Show.
They're here to show you that anything is possible, with the right mindset, and the right leadership strategy.

Thursday, December 5th, 2019
Venue: The Apartment, The Centennial Hotel, Woollahra
Time: 8:15am - 5pm
Cost: $660

Meet Tory Archbold, Founder of women's leadership platform, Powerful Steps and Brand Communications agency, Torstar.

Since starting Torstar two decades ago, Tory has built a formidable reputation partnering with the world's leading retail brands. Torstar's success was built on her foundational values of passion, integrity and delivery which built a global network of referrals that secured top-performing clients Zara, Nespresso, Shopbop, Seafolly and more recently Victoria's Secret and Drew Barrymore's Flower Beauty.
Her reputation as a PR powerhouse has since developed and evolved into her latest business, Powerful Steps, a platform that empowers, inspires and encourages women to step into their true power. Within six months of launching Powerful Steps, Tory has worked with many high-powered women in leadership positions to make significant leaps and bounds in their lives. Her vision for the brand is to offer opportunities, workshops and speaking events that support women to thrive in business and life.
8.15am Guests arrival and registration
8.15 - 9am Light nibbles and refreshments served by the award-winning Centennial Hotel
9am - 12pm Powerful Steps with Tory Archbold


In this part of the workshop, Tory will share her raw, uncensored and deeply personal story of near-death experience and overcoming adversity. Through sharing her professional and personal journey, Tory shows you how you can use your life story as a source of strength to accomplish your dreams. You'll identify where you want to go, and what's currently standing in your way.
• Powerful Steps: What is one and what's the power within?
• How to Create Your Accountability Tribe
• Dream Delivery Meditation
• The Five Power Steps
12 - 1pm Lunch — Enjoy a delicious lunch prepared by the award-winning Centennial Hotel
as part of the experience.
Meet Shivani Gopal, founder and CEO of The Remarkable Woman, an organisation created to accelerate women's careers, businesses and lives. Shivani walks the walk and talks the talk, now having also founded her second business: Halo Money, Australia's only platform to turn your shopping into free shares.
Having started from humble beginnings, Shivani built her career in the male-dominated sector of financial services. Struggling to find mentors, Shivani had no choice but to be self-taught and climbed her way to the top. Shivani understands the glass ceiling, the pay gap and the lack of women at the leadership table. She's experienced it herself and has advised countless women, from CEOs, executives to media personalities on building their leadership strategy, personal brand, and how to negotiate your worth.
Shivani's passion for empowering women comes from a personal place, crediting her financial independence as a life raft for being able to leave an early adult marriage. "Money is critical in life for the choices it affords you," says Shivani. It gave her a first-hand understanding of the importance of personal, professional and financial independence for women—which she now fuels into the work she does at The Remarkable Woman every day.
Shivani fuels all her knowledge and experience into her work, and leaves women with more than just a leadership blueprint; she gives you the tools you need to be the CEO of your own life.
1pm - 4pm Leadership Strategy with Shivani Gopal

Everyone wants to be a confident leader. Whether it be yourself or others. The key to unlocking this is actually within. Learn deeply about yourself: what makes you tick, what drives you, how to stay on point, stand out and have an unstoppable edge.
You'll learn the key to authentic leadership, how to represent your best self until you become it, how to lead a transformational life and be a transformational leader.
Topics Shivani will cover:
· Self-awareness & Self Leadership
· Self Branding
· Powerful communication strategies
· Leadership strategies to transform your career
** All participants will be given pre-event surveys to complete and bring to this session to maximise their learning and insight.
To mark the completion of Transformational Leadership—Always In Your Power, you'll participate and experience the 'Cutting The Cord to The Past' exercise and close the day.
You'll then celebrate all the love, energy and work you invested throughout the event and drink into the future (with champagne! )
4.15pm - 5pm Workshop End. Drinks and networking begin!

Presenter, Seven News Brisbane
"I recently booked Tory to conduct a Powerful Steps workshop with my senior management team. I am fortunate to work with a very talented team of women who had just been through a restructure so I wanted more than just a 'team building' session, I wanted the team to really understand what their core values and goals are as individuals so we could really understand what aligned us as a team and how I could set them up for success in their new roles. Tory talks about having non-negotiable values, clear goals and the confidence to step into your power – I can't think of better tools for emerging female leaders to have in order to thrive both personally and professionally in their lives. Tory really delivered on her personal values for us – she inspired us, encouraged us to be brave and empowered us to come together as a team and plan for success".
"There are lots of Leadership and Mentoring programs out there, but Tory's inspiring story and deeply personal workshop is a very effective way to demonstrate that you are invested in the wellbeing and success of your key talent".
— Megan O'Donnell, General Manager Marketing, Urban Regeneration, Commercial, Retail, Lend Lease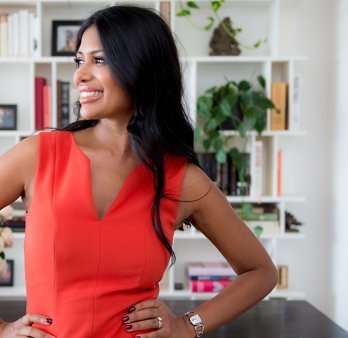 "The mentoring I got from The Remarkable Woman was the best I've ever received in my life! Being part of their community is my secret weapon for success"
Emma Plummer
Accounts Executive